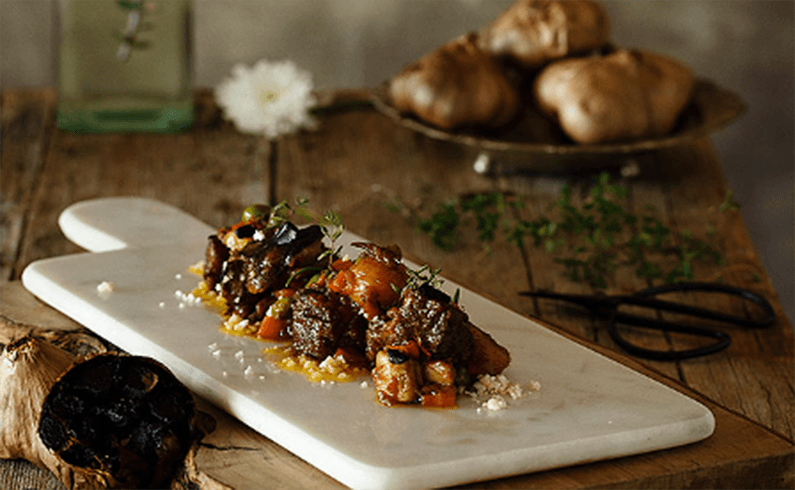 INGREDIENTS: (Serves 4)
1 kilo Venison
3 onions
4 carrots
1 red pepper
250 grams fresh garden peas
6 tablespoons of extra virgin olive oil
Salt to taste
Pepper
Paprika
1 glass of brandy
1 glass of red wine
400 grams mushrooms
100 grams candied chestnuts
150 grams of pumpkin
4 Black Garlic cloves
1 bay leaf
50 grams celery
250 ml. Beef stock
METHOD:
Cube the venison, season, and brown in the extra virgin olive oil. Once done, remove from pan.
Finely chop the onion, carrots, celery and bay leaf and brown in the same oil as the meat. Add the chopped pumpkin and red pepper and brown also. Return the meat to the pan, add the mushrooms (sliced) and mix well. Add a little paprika.
Now add a glass of red wine. Once it has reduced, add the glass of brandy and again allow to reduce. Add the beef stock, cover and simmer until the meat is tender.
Once the meat is tender, add the peas, the candied chestnuts and the sliced black garlic cloves.
Check the salt, adding more if needed, and leave to cook for a further 5 minutes at a low heat.
* Recipe by Miriam Cozar, Chef