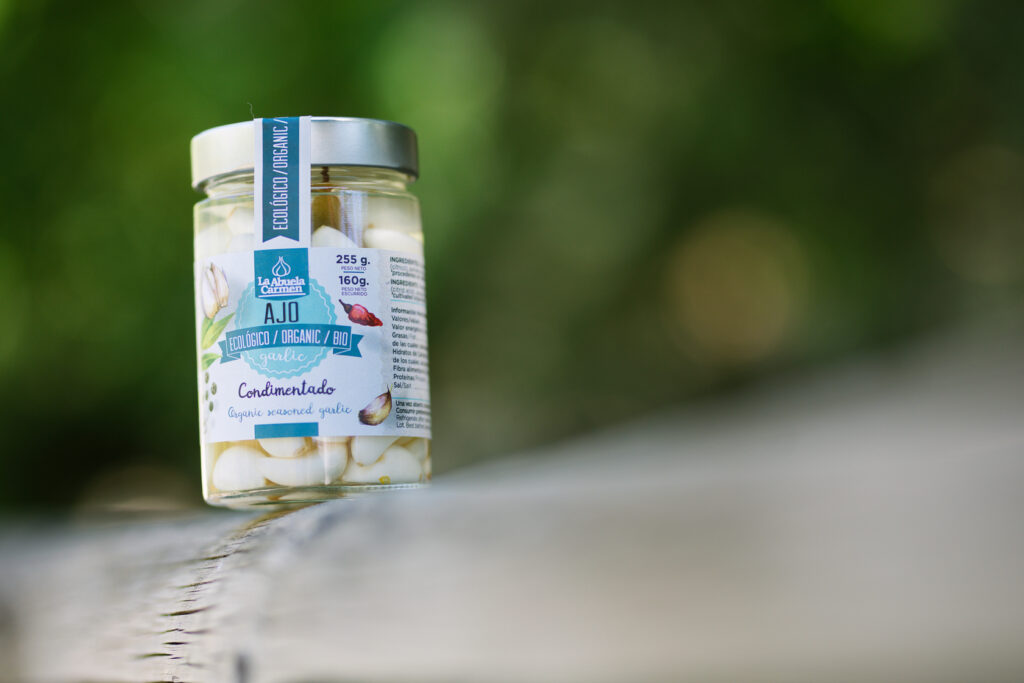 Producer of ecological garlic
The ecological production line of La Abuela Carmen is a reference point among ecological garlic companies.
For more than 40 years, we have seen that fresh garlic is a product from which we can get more out of. Our extensive experience in the growing and harvest of this seed has allowed us to discover its health and food properties in detail.
To do so, and in order to offer the best guarantees, since 1999, we have committed ourselves as an ecological producer, obtaining certification from the Andalusian Ecological Agriculture Committee ("Comité Andaluz de Agricultura Ecológica") (CAAE). This turning point opened up new horizons and completed the range of natural products without additives or preservatives that the consumers needed.
Since then, we have been a global reference point for garlic exporters, both for our eco type of growing and our own line of ecological production, La Abuela Carmen Bio.
We are wholesale producers of ecological garlic on a global scale
La Abuela Carmen Bio is the most complete quality line among ecological garlic producers. In this line, with its eco stamp, you can find fresh garlic bulbs, smoked garlic bulbs, black garlic, peeled cloves of garlic, garlic pickle, fried garlic, garlic paste, dehydrated garlic, sliced or chopped garlic. The multiple formats are available at the La Abuela Carmen online shop and they are prepared using fresh ecological garlic that we grow ourselves.
Our garlic is not only sought for its properties, the ease of its specific use for each occasion has made it into a stellar ingredient that cannot be lacking in any kitchen.
We recommend you try alioli-smoked garlic or spread, as well as the garlic paste that you can also use as dressing in your plates and sauces to make them creamier. This format is also ideal as a condiment in the meat or canning industries, restaurants and hospitality. Other cooking uses for fried, sliced and chopped ecological garlic is in salads, creams, soups or as an addition to garnish, tapas and pinchos.
If you are looking for garlic wholesale ecological companies which guarantee the best variety, quality and ecological guarantees, your best bet is La Abuela Carmen.