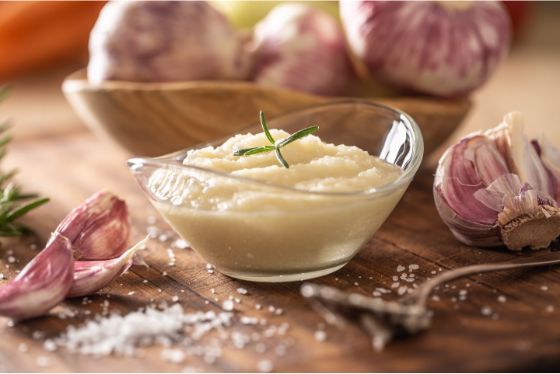 Garlic paste and chopped garlic
As a business of reference and leader in the production and export of garlic in Spain, we also deal in two key products that are garlic paste and chopped garlic, gluten-free and lactose-free, to add the best flavour to your recipes.
Garlic paste is obtained through the process of crushing the fresh garlic that we ourselves produce. Ideal for saving time without missing out on quality and useful for dressing all kind of dishes with its creamy texture: meats, fish, sauces…
We also offer the best ecological garlic paste, made with garlic from an ecological crop, as part of the ecological production line that we have been offering for more than 20 years.
In turn, La Abuela Carmen's chopped garlic is obtained using fresh garlic produced in our facilities, that has its skin removed for its later chopping and preservation in brine. Through this, we manage to preserve all its properties.
Nutritional Information
Energetic value
137 kJ / 584 kcal