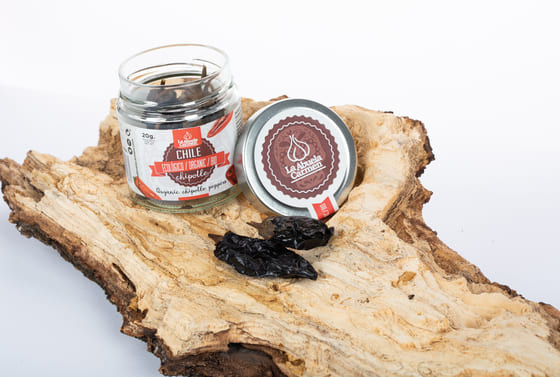 Chile Chipotle
La Abuela Carmen's chile chipotle is obtained after a process of drying and smoking jalapeños which is performed at our facilities. The entirety of the process and the growing of the jalapeños takes place 100% in Spain.
Our chile chipotle has the best flavour and a mildly spicy touch. In order to lessen the spicy effect, you only have to remove the seeds and veins, where the greater part of the capsaicin that causes the intense flavour is located.
Undoubtedly, it is a product that cannot be missing from your kitchen, ideal for giving a definitive touch to any sauce or stew or to accompany any Mexican recipe, among many other alternatives.
Since 1999, we are committed to being an ecological producer, making us into an ecological garlic export company of reference on a global scale. As part of our range of ecological products, we also offer the best ecological chile chipotle.
Nutritional Information
Energetic value
1129 kJ / 270 Kcal
Of which: saturated
0,7 g
Recipes with Chile Chipotle