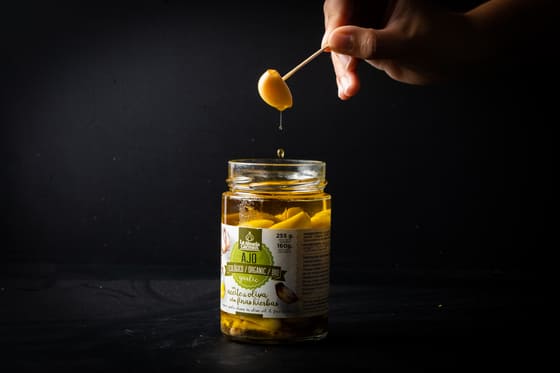 Garlic pickle
Our garlic pickle is made using wholly-natural products and following a special preparation process which manages to reduce the typical, strong flavour of garlic.
Garlic with olive oil with fines herbes has a smooth flavour and a crunchy texture that makes it an ideal complement for roast dishes, bread or hummus, among others.
For their part, garlic with paprika and seasoned garlic have a spicy touch and are ideal for adding to salads, pasta, sauces… What's more, we use a large amount of great quality oil in all our canned food and fully-natural products.
As of more than 20 years ago, as part of our commitment as an ecological producer, we also offer the best ecological paprika garlic pickle, seasoned garlic and garlic in olive oil with fines herbes.
Nutritional Information
Energetic value
362 kJ / 86 Kcal
Of which: saturated
0,5 g