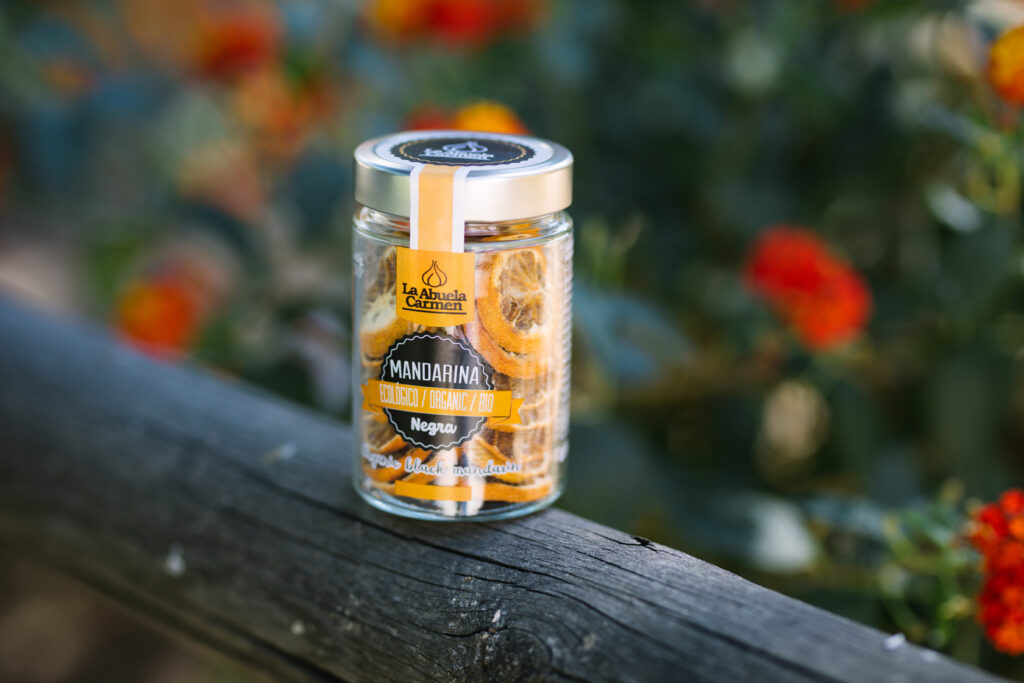 Black Mandarin
La Abuela Carmen's black mandarin consists of 100% fresh national mandarin. It is obtained using a natural process which subjects it to low humidity and controlled temperatures, with the aim of not adding any other ingredient or additive. Thus, you can enjoy its intense and caramel flavour with hints of wood and honey.
We are leaders in the production of black mandarin and thanks to our transformation process we preserve and enhance its original nutrients. It has a high vitamin C content, multiplying that found in fresh mandarin, as well as a high potassium content and a high fibre content.
Black mandarin combines perfectly to give a different touch to sweet and salty dishes, as well as mixed drinks and teas. As slices, it is ideal for decorating and flavouring drinks such as vermouth, sangría, liquors or creating a refreshing mix of flavoured water. Additionally, with black mandarin powder, you can quickly add this exclusive taste to all your dishes and surprise your guests with caramel hints.
Nutritional Information
Energetic value
1021 kJ / 244 Kcal
Of which: saturated
0.15 g
Potassium
1088 mg (54 % DRN*)
Vitamin C
114 mg (143 % DRN*)