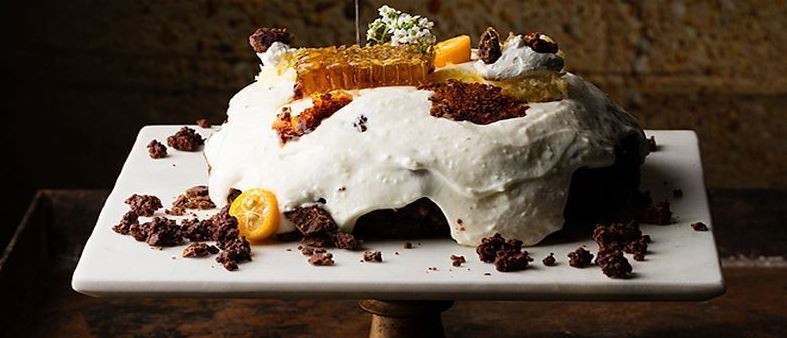 INGREDIENTS:
Black tart:
2 black onions
250 g flour (may be substituted for spelt flour)
250 ml dark beer
2 eggs
150 g cream
400 g sugar
175 g black chocolate
1 sachet yeast
Frosting
250 g cream cheese
50 g blue cheese (finely chopped)
150 g icing sugar
350 g double cream, very cold
Decoration:
Honey and/or caramelised honey
Honeycomb
Seasonal fruits
PREPARATION
Melt chocolate and butter in a bain marie.
Mix flour with sugar and yeast, avoid lumps.
Add the cream and two eggs to the sugar, flour and yeast.
Add the beer.
Mix with the rod.
Add melted chocolate and butter to create a homogeneous mixture.
Add the finely chopped black onion.
Grease a cake pan with butter or baking spray.
Pour into a cake baking dish.
Bake at 180 degrees for half an hour.
Observe. To determine whether it is ready, the mix should be crispy outside and juicy inside.
While the cake is baking, prepare the frosting.
Mix the two cheeses until they have a creamy consistency.
Add the sugar and cream.
Assemble, on a rod or cake assembly mechanism.
Keep cool.
To assemble the cake
Once the base is cool, cover the top with frosting, leaving the bottom of the tart exposed (for colour contrast).
Decorate with honeycomb, or honey, and seasonal fruits.
You could also make a honey caramel.
(Spread a tablespoon of honey on baking paper, place in the oven at 160º until bubbles emerge, remove and allow it to cool to turn it into caramel).
The contrast of black foods, chocolate, onions and beer create perfect harmony with the blue cheese frosting and honey.
PRESENTATION
This tart evokes authentic flavours of home; in the decoration, abandon the perfection of the lines, seeking natural decoration, without forcing.
* Recipe of Miriam Cozar, Chef
Visit web of Miriam Cozar