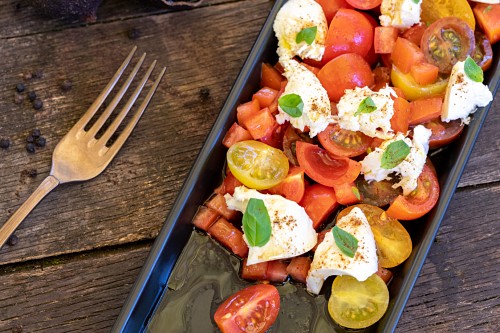 Caprese salad with powdered loomi vinaigrette.
Ingredients:
Different types of tomatoes
Burrata Cheese
Olive oil
Modena vinegar
Black lime powder
Step by step:
Try using 2 or 3 different types of tomatoes, cutting them all up differently.
For example, you could slice a salad tomato into rounds; quarter a heirloom tomato and cut yellow and red cherry tomatoes in half.
Take the burrata cheese out of its packaging, draining the liquid. Put it in the middle of a plate, arranging the tomatoes around the cheese.
Make a vinaigrette with olive oil, a splash of Modena vinegar and a tablespoon of black lime powder, pouring the dressing over the salad.
This recipe is very easy and very tasty with the Black Lime La Abuela Carmen. You can purchase it in our online store.