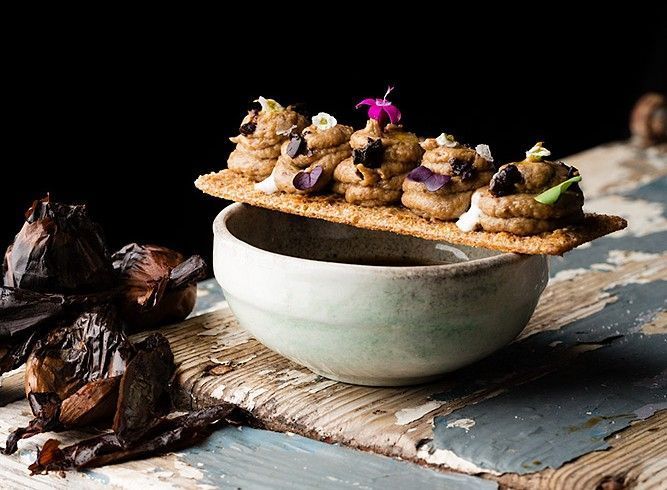 INGREDIENTS
3 black onions
1 kilo various seasonal mushrooms
2 shallots
50 ml Pedro Ximenez harvest sherry 150 g
Aloe vera leaf 150 g
50 ml Royale extra virgin olive oil (add more if you like it)
Cordoba fleur de sel sea salt to taste
Cocktail of peppers to taste
PREPARATION
Peel the aloe leaf, removing all green and leaving only the gel.
Cut the gel and leave it to soak, changing the water several times during a day to remove the aloin and bitterness.
Remove and place in mineral water with a few drops of lemon juice, store in the refrigerator.
Peel and finely dice the shallots.
Submerse the shallots in olive oil.
Clean and chop the mushrooms.
Add them to the shallots.
Add salt to flush the water and concentrate.
Add the aloe vera and sauté.
Add the three black onions chopped into small cubes.
Add the Pedro Ximénez.
Once reduced, blend all ingredients and emulsify with a little extra virgin olive oil.
Correct salt and pepper.
Package and store cold until it has the pâté texture.
TASTING NOTES
A pâté with autumn, toasted and mature flavours due to the black onion.
Pleasant smoothness on the palate. Respectful with the nuances of seasonal mushrooms.
Recipe suitable for vegetarians and vegans. Lactose- and gluten-free.
* Recipe of Miriam Cozar, Chef
Visit web of Miriam Cozar