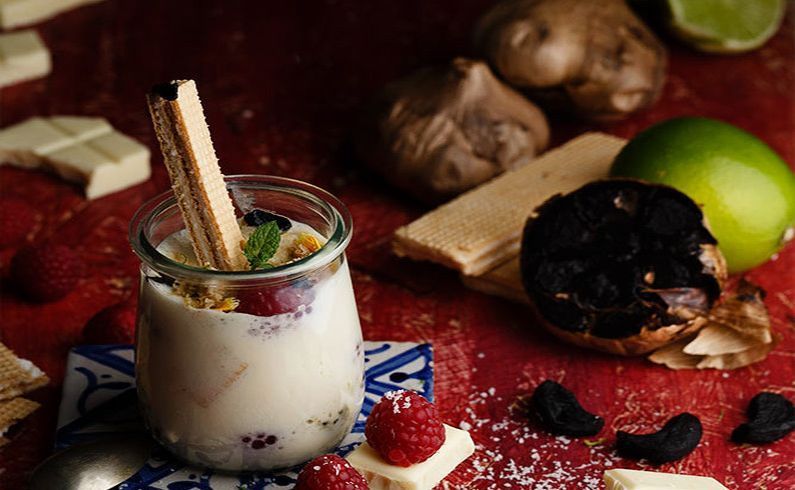 INGREDIENTS:
350 grams white chocolate
100 grams grated coconut
750 ml whipping cream
5 sheets of gelatine
250 grams of raspberries
1 coconut wafer per person
Lime
Pedro Ximenez wine
Grated lime peel
1 clove of black garlic
I/5 of a vanilla pod
1 egg
2 egg yolks
3 tablespoons of rum
METHOD:
Infuse the vanilla pod and the black garlic clove in 200 ml of cream. Leave for an hour before removing the vanilla pod and garlic clove. The cream will now have the aroma of the vanilla and black garlic.
Soak the gelatine in chilled water.
Add the flavoured cream to the white chocolate and melt in a bowl above hot water.
Heat the rum to burn the alcohol.
Put a bowl above a pot of hot water and add the egg and both yolks, whisking them until the turn a creamy colour but making sure they do not cook. Add the rum and the gelatine (remove from the water), whisking until the mixture in smooth.
Mix with the melted white chocolate.
Whip the remaining cream and add the mixture carefully, folding the mixture into form a light mousse.
Mix the grated coconut with grated lime peel and Pedro Ximenez.
To serve.
Place half of the coconut wafer (broken into pieces) in the bottom of a glass dish. Add raspberries and the coconut, lime and Pedro Ximenez mixture, Add the mousse and top with a raspberry, coconut and lime mix and the rest of the wafer.
*  Recipe by Miriam Cozar, Chef