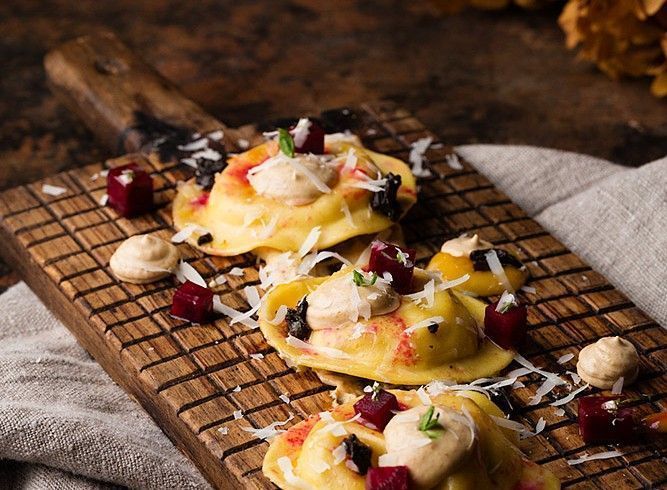 Recipe for four people
FRESH PASTA INGREDIENTS:
500 g all-purpose flour
3 large eggs
Roller
Pasta machine
Large ravioli mould
Preparation:
Make a dip in the flour and add the three eggs in the middle.
Knead slowly, mixing first with the fingers, then with the whole hand.
Bind the ingredients well.
The dough should be hard and easily peel off the hands.
Leave to stand 30 minutes covered with film.
Divide into several balls.
Knead lightly with a rolling pin until they can pass through the pasta machine.
Pass through the pasta machine until the desired thickness is achieved (not too thin).
PASTA FILLING INGREDIENTS:
3 black onions
500 g pumpkin
2 shallots
200 g cheese
75 ml cooking cream
Hojiblanca extra virgin olive oil to taste
1 piece fresh beetroot
100 g walnuts
Nutmeg to taste
Fresh oregano to taste
Pepper to taste
Fleur de sel sea salt to taste
25 ml Montilla-Moriles 'oloroso' fortified wine
400 ml mineral water
Preparation:
Peel the black onions and set the peel aside for use in the sauce.
Sauté the finely chopped shallots in oil.
Add a little salt to caramelise before.
Add the fortified wine.
Add the diced pumpkin.
When it starts to turn tender, add the salt, pepper and oregano.
Add the finely chopped black onion.
Add the coarsely chopped walnuts
Remove from heat when the flavours are merged and the pumpkin is tender.
Allow to cool to fill the pasta.
While the filling cools:
Dice the fresh beetroot and leave to stand in Hojiblanca extra virgin olive oil with fleur de sel sea salt. Keep cold until assembly.
Infuse the skins of the three black onions with mineral water to a dark golden consommé with onion flavour.
Reduce to half.
Strain the consommé.
Grate the cheese, add to the consommé at a simmer.
Add the cream.
Stir constantly to achieve a light creamy sauce texture.
Emulsify the sauce if necessary in the Turmix or Thermomix to 80º at 4 or 5 speed.
Presentation of the dish
Fill the pasta and boil for 3 to 4 minutes (to taste).
Drain and place on the plate.
Grate nutmeg and pepper over it.
Add sauce to taste.
Add diced beetroot to garnish.
Recipe suitable for vegetarians
* Recipe of Miriam Cozar, Chef