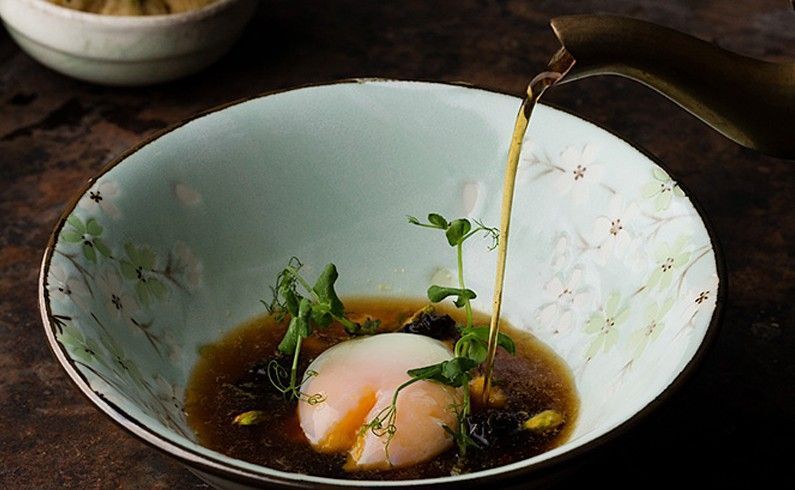 INGREDIENTS FOR FOUR PEOPLE:
2 black onions
1.5 litres mineral water
Kombu seaweed sheet
Half tablespoon white miso
200 g snow pea shoots
200 g carrots
4 eggs
2 tablespoons Arbequina extra virgin olive oil
Fleur de sel sea salt to taste
(This makes one litre of soup)
PREPARATION:
Infuse the shell black peel, kombu seaweed and miso in the mineral water.
When reduced to half litre, filter.
Finely chop and add the onions.
Leave to infuse removed from the heat.
Creamed carrot
Cook the carrot with very little water and fleur de sel sea salt.
Drain, reserving some of the cooking water.
Blend, emulsify with two tablespoons of extra virgin olive oil and a little cooking water.
Correct the salt.
Add a little pepper.
Slightly blanch the snow peas in boiling water.
Egg
It can be poached or prepared at low temperature. For the latter method, immerse the whole egg for 40 minutes in water at a constant temperature of 65°. This achieves a perfect texture of proteins in the egg whites and yolk, achieving exceptional flavour.
Heat the water to 90º, carefully open the eggshell and submerge until a film is created outwards. Remove the egg.
Presentation:
In a small deep bowl, add a few spoonfuls of the creamed carrot and "plant" the snow peas.
Place the low temperature (or poached) egg in the centre of the bowl.
Pour soup into the bowl slowly.
To make the vegan/vegetarian recipe, substitute the egg for grilled tofu.
*  Receta de Miriam Cozar, Chef