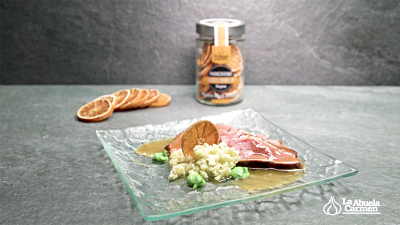 1 duck magret
250 ml of chicken stock
2 shallots or French onions
Black mandarin slices
1/2 cauliflower
Garlic
Butter
Mayonnaise
1 bunch fresh basil
Preparation
Score the magret several times on the fatty side. Brown in a frying pan over high heat. Remove from the frying pan and add the shallot, cooking over low heat until caramelised. While it fries, heat the chicken stock and infuse it with the mandarin slices. Then add to the frying pan. Cook until reduced by 3/4, then add the butter and the magret to finish cooking it.
Cut the cauliflower into shavings with a knife, cook in water for 2 minutes and then fry with a bit of olive oil and garlic.
Mash the basil and the mayonnaise together until obtaining a green mayonnaise.
Our Organic Black Mandarin Slices are on sale at our online shop.
Video of preparing the recipe DUCK MAGRET WITH BLACK MANDARIN SAUCE AND CAULIFLOWER COUSCOUS