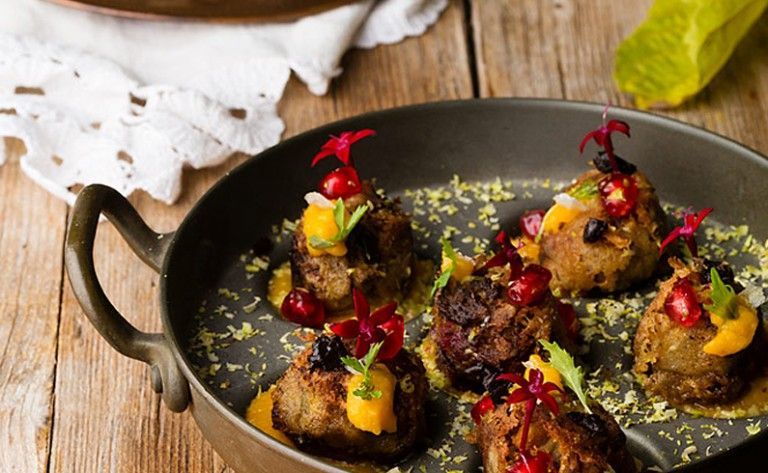 INGREDIENTS:
2 black onions
500 g cooked chickpeas
100 g chickpea flour
1 medium pomegranate
150 g pistachios
1 tablespoon Picual extra virgin olive oil
300 g pumpkin
Fleur de sel sea salt
Pepper
Orange peel 1 teaspoon coffee
2 green cardamom pods
Preparation:
Purée the chickpeas in a sieve, separating the skins.
Chop and add the pistachios, reserve a few for garnish.
Remove the pomegranate seeds from the shell, reserve a few for garnish.
Add half the pomegranate.
Grind the cardamom with a little salt and pepper.
Season the dough.
Add 1 tablespoon Picual extra virgin olive oil.
Add peeled and finely chopped black onion.
Make not-very-large balls (spread oil on your hands).
Leave to cool.
Peel pumpkin and roast at 180º until tender.
Add salt, oil and grated orange peel.
Emulsify and keep cold.
Remove the balls (the should be more solid).
Roll in chickpea flour.
Fry.
Once browned, remove them and leave on absorbent paper.
Presentation of the dish:
Place a little of the emulsion pumpkin on the base with a spoon.
Place a fritter on top.
Garnish with pomegranate, pistachio and chopped black onion.
These chickpea fritters have a fresh, citrus and exotic flavour. They fill the mouth with nuances of flavour, featuring chickpeas because of the importance of eating vegetables.
Recipe suitable for vegans/vegetarians and those with coeliac disorders. It contains no lactose
* Recipe of Miriam Cozar, Chef